well.. i thought of putting a little fib here today, and saying that I 'DID' get a work out in. But I feel that I owe my bloggers the truth! I will not be posting my fuel for the day because it was nothing that you can get any great motivation from. When my stomach is stressed, I just don't eat well. Familiar?! Hell yeah!!! We're ALL human! And we can still beat the battle of the bulge!! Just not on your bad days... Lol!
Grandpa ended up in the hospital, I had an impromptu appointment at the doctors office and had a lot of calls to get out of the way.
No work out today... :(
43 days left to make a change before the big 40... smh!
Anyway, as promised... a little information to help you all on your journey to success with health, strength and happiness!
One of the Most Effective Butt-Toning Moves You Can Do
Standing Hip Extension on Cable Cross Machine
If the machine is not an option... try the bands!!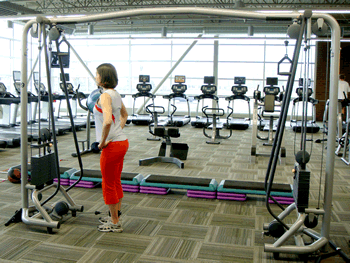 Improve your balance and coordination with this move.